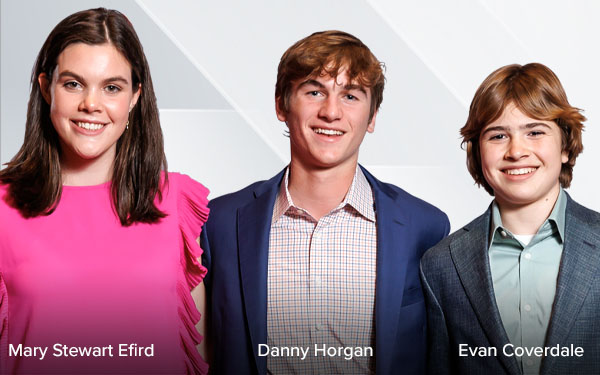 2023 National National Top Fundraisers
2023 Student Visionaries of the Year Team Chipping Away at Cancer, made up of co-candidates Mary Stewart Efird, Danny Horgan, and Evan Coverdale not only set a fundraising record in Charlotte, but a National Student Visionaries of the Year fundraising record, raising over $1M for the fight against blood cancer! This outstanding team is no stranger to The Leukemia & Lymphoma Society (LLS) or to blood cancer. When Mary Stewart's cousin Lila was diagnosed with AML two years ago, she knew she wanted to do something to help. "Our family has recently experienced first-hand the transformational power of LLS," she said. Lila is now cancer-free due in part to the funding LLS provided for her clinical trial. "I am so grateful and extremely proud to think that I was in some way a part of her survival," she adds. Similarly, Danny decided to participate in Student Visionaries of the Year in honor of his maternal grandfather, whom he is named after, and who also fought blood cancer. "LLS is known for funding groundbreaking research, but they do so much more. LLS is a champion for all blood cancer patients and survivors, and they provide support throughout one's entire cancer experience," said Horgan. "We are honored to break a new fundraising record and knowing the funds we raised are going directly to helping patients survive and thrive is what's most rewarding," added Coverdale.

Our National Runners Up, Team Change Cancer's Course led by co-candidates Alyssa Xu and Becky Luo also raised an outstanding $512,000 setting a new fundraising record in Los Angeles and raising nearly double last year's record-breaking team. As a former Team Member, Becky saw firsthand the incredible impact she could make in the fight against blood cancer. "Even in my first year as a Student Visionaries of the Year candidate, it never ceases to amaze me how much power we have when we come together for the same goal," added Xu. When she asked her friend Alyssa to be her co-candidate, it was a no-brainer. The duo set an ambitious goal and formed a game plan to strategically meet with every single business and personal connection that they could. Their main goal, however, was to be advocates for this terrible disease and to help those who are not able to help themselves. "I was so amazed by the realization that young people like me, like us, can actually have an impact in this world," said Luo.